Where to find inspiration in this complicated time
It feels like 2020 is cancelled. Alongside the devastating human cost at the hands of Covid-19, the race schedule has fallen apart and athletes including top pros are learning to adapt their training to lockdown restrictions.
But if there's anything we know about humans it's that they rally in times of difficulty. What follows are some of the most inspiring stories in our sport of triathlon, which range from bold comebacks after life-changing injuries to toeing the startline in memory of loved ones lost.
As those of us in the UK stay at home in order to protect the NHS, ourselves and the vulnerable members of our communities, these tales of bravery, hope and redemption will serve as motivation.
Loretta Harrop, Australia
Brisbane-born triathlete Loretta Harrop is best known for taking the silver medal at the Olympic Games in Athens, 2004. What many don't know is that two and a half years before this race – the biggest of her life – her brother Luke was killed in a hit-and-run on his morning training ride on the Gold Coast. She had already lost her mother many years before from cancer.
It was Luke, in fact, who got Harrop into triathlon in the first place, all the way back in 1994. The pair competed in local triathlons and both went pro in 1996. One year later, Loretta made her mark on the ITU World cup circuit. She became famous for her gun to gate strategy – swim fast, bike faster and then run to an unbeatable lead.
In 1999, Harrop took the World Championship title in Montreal and went on to place fifth in the Sydney Olympic Games of 2000. After her brother's shock death in 2002, she was devastated, but resolved to honour him in the way she knew best: triathlon. Two years later she took silver in the Athens games.
Harrop has spoken openly about fighting through this family tragedy and still races the Luke Harrop Memorial triathlon (aka the Gold Coast Triathlon) every year.
Takeaway quote:
Harrop told Tri247 in 2007, "I lost confidence on the bike a couple of times. Once I remember a world cup in Geelong, not long after my brother had been killed.
It was teeming with rain and the course was hairy even in the dry. I was the clear favorite and I thought my weakness and fear was about to be exposed because I just could not ride in the rain.
After an initial flip out I got to be alone in my room and looked in the mirror and said 'I have to face this fear head on'. I was more afraid than anything of having to live with the fact that I had let this stupid fear beat me.
So I tackled it head on, like I had no choice. That is the best way for me, I work great under that 'no choice' banner. When things go terribly wrong in my life I had to face them. There was no hiding and I treated fear of any sort in that way."
Resources: tri247.com; goldcoasttri.com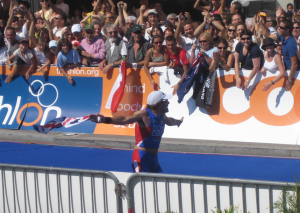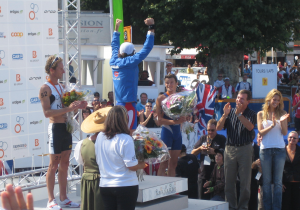 Tim Don, Great Britain
'The Don' has been at the top of triathlon for over two decades, brandishing the motto 'train hard, race easy.' His wild, contagious spirit and thick curly hair are something of a trademark and a comforting emblem of that the old guard is still kicking.
Don is a three-time Olympian, having raced in the first ever Olympic triathlon at the Sydney games in 2000, then again in Athens in 2004 and Beijing in 2008. He is also a four-time ITU World Champion in triathlon and duathlon.
After dominating the sport in short course, Don set his sights on 70.3, and then Ironman racing. In 2017, he set a new Ironman world record at the Ironman South American Championship in Brazil, in a time of 7:40:23. It looked like he was set to come out on top at that year's World Championship, but two days before the race he was hit by a truck during a cycling session on the famous Queen K highway.
The near-fatal collision resulted in a Hangman's fracture to his neck. Among several options for treating his injury, only one would offer Tim even a chance at competing with the best again: a halo brace. He spent three months in what he called 'the prison', which held his head and shoulders in the correct places as he recovered.
Just six months after the crash, Don returned to the start line once more. This time, at the 2018 Boston Marathon, which he ran in 2:49:42. Later that year he qualified for Kona once more and finished in 53rd place – an unbelievable feat in such circumstances.
Takeaway quote:
Don told RedBull in 2018, "I didn't want to go out because of a careless driver. I would rather try and fail than never fail at all."
Resources: RedBull article; Emmy-award-winning director Andrew Hinton teamed up with Tim Don to document his recovery in the inspirational short documentary, The Man with the Halo.
Chris McCormack, Australia
We all need a little more self belief, the skill of which Chris McCormack is the master. One of the more controversial athletes in the sport's history, Macca (as he is known) was big on smack talk – before, during and after racing. For him, extreme self belief is a mindset and a way of life.
Despite his sometimes negative media portrayal, there was a far softer side to Macca than most knew. It was just before the second trial for selection for the Sydney 2000 Olympic Games that his Mum passed away.
He told the South China Morning Post in 2014, "Her funeral was on a Friday and the trials were on the Sunday. Because of the selection criteria, I had to win it. I was devastated; I felt like the worst son a mother could have: I'd been away, I felt guilty. Dad told me to race and I was doing great until someone in the crowd called out, "Macca, do it for your Mum." It broke me. I stopped, sat on the gutter and cried. They didn't select me for the team; they said my head wasn't in it."
Despite being left off the team, Macca, who has been racing to a world-class level in triathlon since the mid-90s, has won every major short course race in triathlon, from ITU World Cups to the infamous Escape from Alcatraz triathlon. Then he went long and the same success followed.
Before his first appearance at the Ironman World Championships in Kona 2002, he told a reporter, "Mate, I'm here to win!" A cocky message that earned him enemies before the race had even begun. Several years later in 2007, he finally did become Ironman Triathlon World Champion.
Incensed when it was dubbed somewhat of a one-hit wonder, he made his life's biggest project coming back to reclaim the title. He finally achieved his goal in 2010 – when every critic thought the 37-year-old was too old to even contend – turning the sport on its head in the process. Adopting a new strategic approach to undercut the fastest runners by burning them out on the bike, he crossed the line victorious in one of the most dramatic finishes of the race's history.
But behind the seemingly hard shell of Macca is a man who knows what it is to dream, to experience inexplicable loss, to win, to fail and to come back stronger.
"Coming to Kona had been the only thing that my best mate Sean Maroney and I had talked about for more than a decade," wrote Macca in chapter one of his book. But on June 6 2002, the summer before Macca's first attempt at Kona, Maroney fell to his death from a twenty-seventh-floor balcony.
Distraught, Macca wanted to cancel his race slot at Escape from Alcatraz later that week, but Maroney's father refused saying, "You do that race and you come home. But you are going to win that race." And he did.
Takeaway quote:
McCormack wrote in his book I'm Here to Win, "In endurance racing, whether the race is two hours or eight hours, the biggest limiting factor is fear. The reason you get nervous before a race is that you doubt your ability to perform when it's all on the line… I handle it by creating folders in my brain."
Resources: McCormack's book I'm Here to Win (2013) is published by Center Street and available on Amazon; his second book The Macca Model (2015) was published by Create Space and is also available on Amazon. Both publications are available to download on reputable ebook platforms.
Sheila Christine Taormina, America
One of the greatest athletes in the history of all sport, Sheila Taormina was the first woman to qualify for the Olympics in three different sports (swimming, triathlon then modern pentathlon). She competed at the Olympic Games in 1996, 2000, 2004 and 2008, winning gold in the 4×200 freestyle relay in '96.
If there's one thing we can learn from Taormina it's determination. Four years after coming sixth in the first ever Olympic triathlon in 2000, she won the 2004 ITU World Championships.
None of this success came easily to the American – she has had to fight for every Olympic spot and success she has had. She made the 1996 team by less than one tenth of a second, having been rejected by a resident Olympic training programme; she suffered extreme heat exhaustion, toppling off her bike in her triathlon world cup debut; and suffered rhabdomyolysis – a breakdown of muscle fibres that causes kidney damage.
Taormina's is a tale of endurance excellence achieved by a refusal to give up. She has published three books.
Takeaway quote:
Taormina told the South China Morning Post in 2014, "I have an Olympic gold medal, but I also know what it means to have come dead, dead last. We think it's about winning, but it's not. There is so much more to sport than a medal. It's about human potential, and never giving up."
Resources: The South China Morning Post article; Taormina's books Swim Speed, Swim Speed Strokes and Swim Speed Secrets are all available on Amazon.
Javier Gomez, Spain
Spanish athlete Javier Gomez has been winning on the world stage since the early 2000s. One of the most exciting athletes in the history of triathlon, Gomez is an astoundingly good runner, delivering heated battles on the ITU scene for years.
The winner of five ITU Triathlon World Championships, Gomez has held three ITU Triathlon World Cup titles, and won the silver medal for Spain at the 2012 Summer Olympics in men's triathlon, conceding to Alistair Brownlee in London.
But for something totally awe inspiring, watch Gomez's sprint finish with Jonathan Brownlee in the London World Cup of September 2013. The kilometre-long final battle for the title is one for the ages, and the perfect example on both athlete's parts of never, ever giving up – watch the clip to find out for yourself.
Persistence is Gomez's trademark. In 2014, not only did Gómez won his fourth ITU World Championships (winning four out of the eight possible races) but he also took the 2014 Ironman 70.3 World Championship title. Then in 2015 he took his third consecutive ITU World Championship at the Triathlon World Series Grand Final in Chicago.
Having focussed on long course since 2019, Gomez made a return to ITU racing in 2019 whilst continuing to compete in Ironman. Though having never quite triumphed at the full Ironman World Championships in Kona yet, there is still one race left on Gomez's bucket list – and he's already received his qualifying slot.
One thing we can count on for this most versatile performer is he is astoundingly inspiring to watch race. Search for videos of his run in ITU races for more.
Takeaway quote:
Javier Gomez told Reuters in 2008, "It's an error to count on winning a medal in the triathlon. With one race every four years anything can happen, especially in a sport as tactical as this where it isn't always the strongest who wins," he said.
Resources: Javier Gomez has partnered with Zwift to host community rides throughout the pandemic; he also posts updates on his Instagram account
David McNamee, Great Britain
This Scottish triathlete is an excellent person to follow, for his bright spirit and consistent excellence. Based in Girona, Spain, he is currently nailing 24-hour training weeks from his balcony and documenting it prolifically on Instagram.
McNamee has been a triathlete since the early 2000s, when he competed in sprint and Olympic-distance events. But he has spoken at length about how the ITU format frustrated him – why spend fifteen hours on the bike a week if you can't use that skill in the race? It was when he turned his sights on Ironman that he truly found his groove.
With a media frenzy surrounding athletes such as Jan Fodeno, McNamee flies somewhat under the radar, yet has some consistently excellent results. He came third at the Ironman World Championships in 2017 and again in 2018, becoming the third fastest Kona finisher ever, running his way from 19th onto the podium.
After three weeks in isolation he shared this advice: "focus on what you can do and not on what you are missing." Words to remember.
Takeaway quote:
On running into third place in the 2018 Ironman World Championships McNamee told Bob Babbitt, "just run fast and don't even think about it. Act as if this is a Sunday run and that it's not even hurting. Don't breathe hard and make it look effortless."
Resources: see McNamee on Breakfast with Bob in 2018; follow his isolation progress on his Instagram account.
Jodie Swallow Cunnama, Great Britain
British triathlete Jodie Swallow made her name as one of the top athletes on the ITU circuit, first winning the European Junior and then World University championships in 2000. She raced consistently well on the circuit until 2007, when things started to slow for her and she turned her focus to Ironman.
It wasn't the first time she'd experienced a slump, though. She has widely spoken about how low she felt after placing 34th in the 2004 Athens Olympic Games, when she had started the race as one of the favourites.
She had a wobble, but didn't quit and found persistent success over long course. Swallow became an Ironman 70.3 World Champion in 2010 and ITU Long Distance World Champion in 2009 and 2016. She has taken top spot at Ironman South Africa seven times.
Takeaway quote:
Swallow spoke to the Telegraph about her disappointing result at the 2004 Athens Olympics many years later in 2008. She said, "You don't learn how to lose when you are winning all the time. When I came out of that I was depressed for two years, wanted to give up, wasn't sure what I was doing anymore. I race my arse off trying to win prize money, which is a really dangerous circuit. If you are injured you have no income. Or if you see a race with big money you will do it. But then you might forfeit the next race because you are tired. So now I'm not thinking about money; I'm not thinking about the next race; I'm just thinking about that session because that's the only thing I can control at the time. There's no point worrying about something you can't affect."
Resources: the Telegraph article