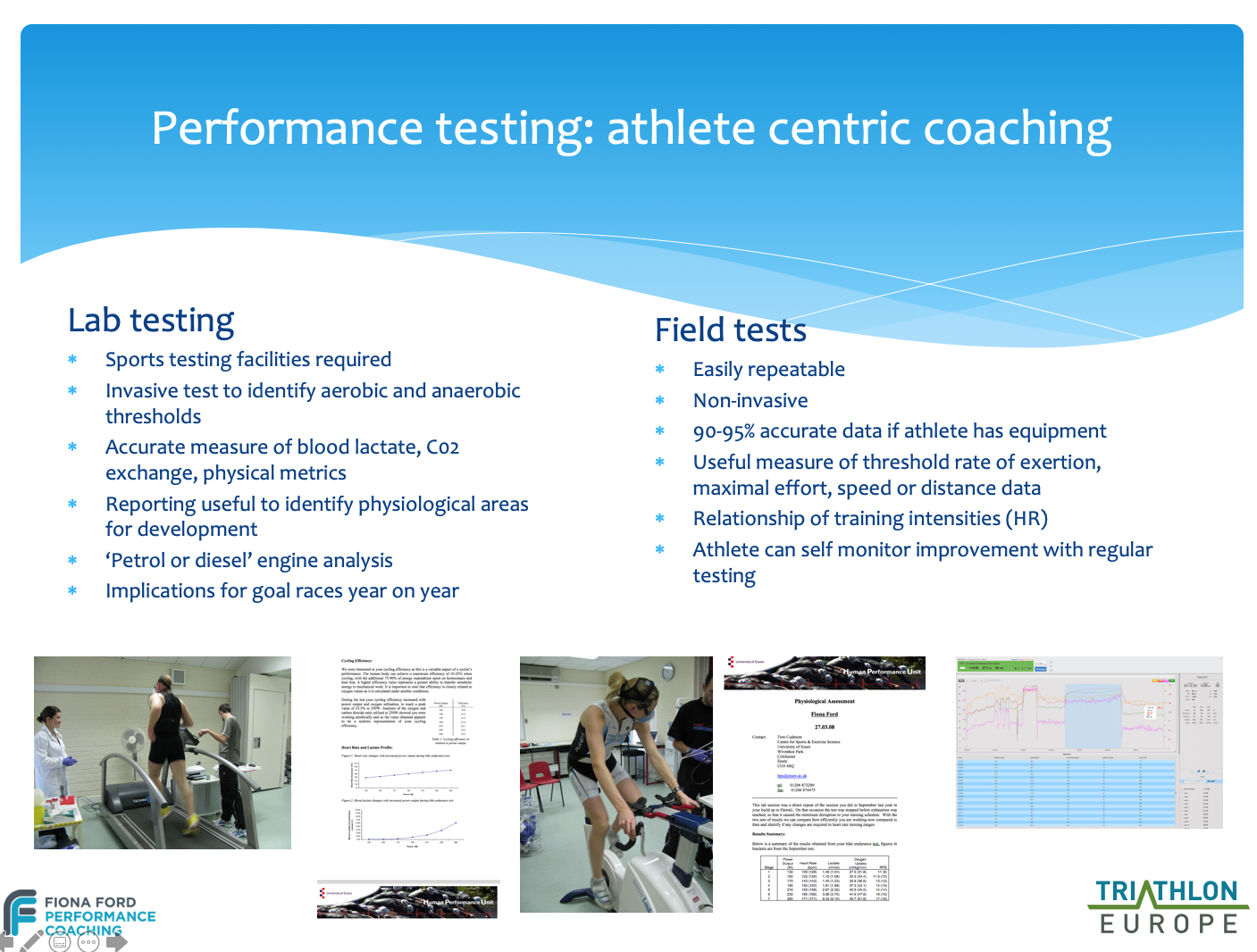 Winter Training and Testing
Fiona has coached nearly 300 individual athletes using her athlete-centric training system, over the past decade. From ITU and ETU age group athletes representing their country and making the podium, to ultra endurance athletes such as the marathon des Sables and solo English Channel swimmers, to designing a strategy for Ironman World Championship athletes and IM 70.3 World Championship contenders, to not only qualify but also present themselves to race the best in the world, in peak physical condition, with a mindset to match. Endurance and multi-sport coaching and athlete education and development are some of Fiona's specialist areas as a coach. Yes, she also a Certified Swim Smooth coach too, however developing the swimming to be a secret weapon is only one piece of a complex matrix for any endurance athlete!
To effectively set performance goals and a training periodisation to develop an athlete's potential, we need to use a combination of athlete and coach feedback after reviewing their season, physiology benchmarks, lab or field testing and an understanding of the requirements of the demands of the goal event/s. The scope and components of training periodisation will vary vastly from athlete to athlete and Fiona's work as a professional coach draws upon the athlete's data combined with current thinking and developments in endurance sport, backed by evidence and research to fully inform the planning process. Failing to plan, is planning to fail!
A number of our athletes are warm weather training at this time of year, completing their season reviews with the coach and undertaking a range of testing to gain a full picture of where they are, to inform their planning.
Next season's work starts right here. Before Christmas!
Meet some of our athletes undertaking warm weather Winter training preparation for 2020
Eilidh Hargreaves, managed to squeeze in a November training camp in Arizona, as well as pre- and post-block lactate testing to measure how the intense programme and altitude had benefited her. From a coaching perspective, we now are armed with exact numbers to develop her programme. Over to Eilidh!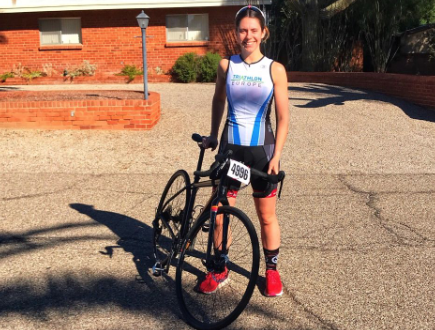 There's nothing like blood testing at three-minute intervals to kill your phobia of needles (which was once so bad I accidentally punched an unsuspecting nurse). The main benefit from lactate testing, however, proved to be the numbers I now have to measure each and every training session.
Staying within the correct heart rate zones, for example, has maximised every minute I spend training – and that has already been proven by an exceptional improvement between the first and second test, taken five weeks apart.
In between, I flew out to Arizona for a whirlwind ten-day training camp, where I was lucky enough to workout alongside Olympic gold medallist Misty Hyman and the run team at Altis in Scottsdale; Ironman legend Jimmy Riccitello in Tucson; and the Hypo2 scientists 2,150 metres above sea level in Buffalo Park, Flagstaff.
For the most part, it was blissfully hot and sunny, and there were a lot of athletes around (Mo Farrah spends summers in Flagstaff and Alistair Brownlee did his pre-Kona prep in Scottsdale, for starters). Arizona is the perfect place to rack up great winter training, with huge wide roads, cycle paths, run trails along canyons and mountains galore. Plus, it's more under the radar than busy training areas like Boulder, Colorado.
I am in the process of returning to triathlon after a ten year break, so the numbers in my head were completely skewed before this point. Unsurprisingly, I can no longer swim, bike and run as fast as I did when I was an elite junior. Testing and taking time to hone in on every element of my performance has armed Fiona and I with a new, accurate set of numbers to improve on.
I can't wait to get my head down on the next stages of Fiona's training plan before more testing in February. You can't cheat a lactate test, and there's nothing more motivational than seeing performance gains that are undeniably, scientifically proven. If you want to enquire about doing your own, I'd recommend chatting to Fiona.
---
Matthew Hogg has just returned from a week in Tenerife, working on a cycling specific block to improve muscular strength and endurance for Ironman racing in 2020. Matt finished top five at his Ironman debut and only just missed out on a World Championship qualifying slot for Kona this year, an outstanding achievement for any Ironman rookie! A cycling focus over the Autumn and Winter will add another dimension to Matt's IM performance as one of the fastest swimmers in his age group and a super strong marathon runner (~3:00). Over to Matt!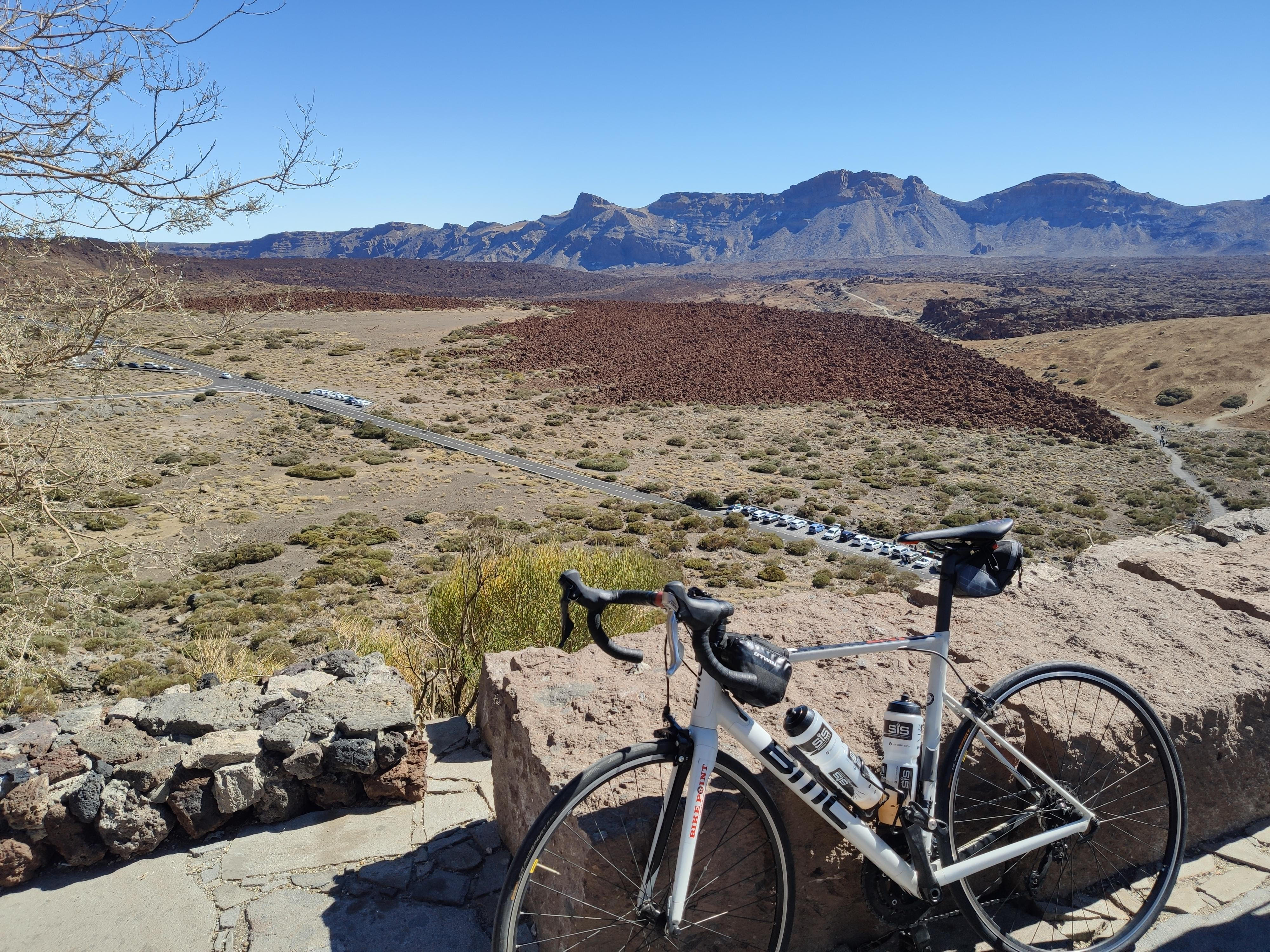 The main benefits for this training block on the bike were excellent weather (for the most part), good roads and a huge amount of elevation. It is not possible to access this level of training and was the area that really made the difference compared to being based in the UK all Winter!
The traffic wasn't insane and tarmac super smooth, it's easy to see why the Pros train here! The routes and roads up the volcano were very well sign posted so could just focus on your effort and attention those hills!
Tenerife is a bit of a Mecca of cyclists so it was good seeing how I was fairing compared to others doing the same route when you pass them.
I personally like the longer hills so I can just find my ideal cadence and just get into the zone rather than the shorter, steeper ones in the UK where you have to power over them.
In 45 minutes of climbing you're above the clouds. Can't beat that!
Fiona also trained on the island in her build up to the London marathon this year, so that knowledge helped to maximise the location, elevation and benefits of training in Tenerife. So much so, I'm going back next season as part of a build up to peak for IMUK 2020.
Some of the metrics we use to gauge Matt's improvement that have guided his progression are not limited only to Functional Power Threshold (FPT) as a 20 minute test is not specific as a measure for a cyclist preparing for an all-day event in between a 1 hour swim and 3 hour marathon, unless athletes are performing the one-hour protocol test.
In the same way that elite cycling is concerned with a range of measures to improve performance (marginal gains), we measure and track power to weight (watts:kg), V02 max, fuel utilisation (rate of carbohydrates and fat) and optimal rates of recovery for each athlete.
There simply is no 'one size fits all' or formulaic coaching, based on predictions, rather we work from the ground up, to build the best version of each athlete that is possible. There are no limits if the athlete trusts the process, and the coach to be the main voice for advice specific to the individual. This model is a proven road to achieve extraordinary outcomes, as Fiona knows first hand.
Watch this space, 2020 will be a very exciting year for the team!
Fiona has limited availability for triathlon coaching if you are an athlete with performance ambitions in 2020, please take a look at her services and contact her directly here