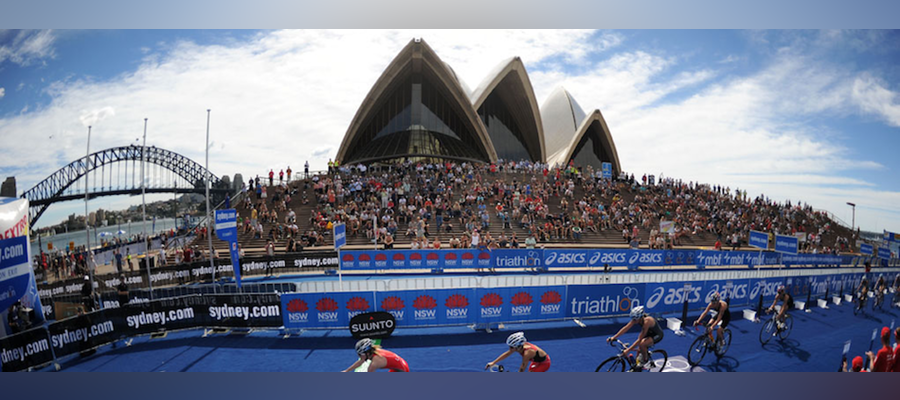 The history of Olympic triathlon
No sport has achieved Olympic status in so short a time as triathlon. Providing an invigorating challenge over three disciplines, the sport has been drumming up vastly increasing numbers of participants since the first ever race in 1974.
They say that San Diego is its birthplace. There, on September 25, 1974, the San Diego Mission Bay Track Club held a multisport event which took in a 10km run, 8km cycle and 500m swim: the first ever triathlon. 46 club members participated in the event, which had been dreamed up as an alternative to a track workout.
Fifteen years after this inaugural race, in 1989, triathlon had become one of the fastest growing sports in the world and the International Triathlon Union was founded in Avignon, France. The first official World Championships was held there the same year and the official 'standard' distance triathlon was set at a 1,500m swim, a 40km cycle and a 10km run.
The sport caught the attention of ultra talented athletes from other disciplines, who took no time in migrating over. Siri Lindley, who played and coached hockey and lacrosse at Princeton, competed in her first triathlon in 1992 and hit the professional ITU scene in 2001, winning six consecutive World Cup races and taking the World Championship title. Fellow American Sheila Taormina was the first woman to qualify for the Olympics in three different sports: swimming, triathlon and modern pentathlon. She came to triathlon after winning the 1996 Olympic gold medal in the 4x200m freestyle relay, placing 6th in Sydney and 23rd in Athens.
'Standard' distance became commonly known as 'Olympic distance' in the year 2000, when triathlon made its Olympic debut in Sydney. Held at the Sydney Opera House, a total of 100 athletes (48 female and 52 male) hit the water and, in a major boost to triathlon credibility, the race was televised. Such international recognition at the beginning of the millennium led to a worldwide boost in participants, supporters and funding for the sport.
Simon Whitfield of Canada won the men's race in a time of 1:48:24, which remained the fastest triathlon time in an Olympic Games until 2012. Brigitte McMahon of Switzerland took gold in the women's race in 2:00:40, which remained the fastest female time in an Olympics until 2008. Controversially, McMahon tested positive for EPO in 2005, but maintains that she did not begin doping until well after 2004.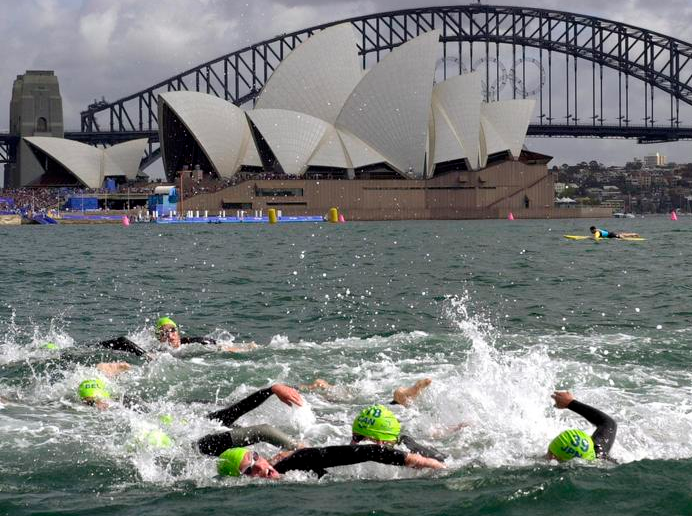 Other Olympic triathlon legends
Hamish Carter, Athens 2004
Having competed in the inaugural Olympic triathlon in Sydney four years earlier, Hamish Carter took gold in Athens. Part of a then new guard of world-leading New Zealand triathletes, Carter won the race less than eight seconds ahead of fellow Kiwi Bevan Doherty. His professional triathlon career spanned 1992 to 2006, during which time he also won 12 ITU world cup races.
Kate Allen, Athens 2004
Originally from Geelong, Australia, Kate Allen gained Austrian citizenship in 2002 and raced under her new nationality in the 2004 Athens Olympics. She exited the water in 44th place in a field of 51 athletes and began picking competitors off bit by bit. Coming off the bike she was in 28th place and flew through the field on the run, overtaking the then leader, Australian athlete Loretta Harrop, less than 150m from the finish to claim gold.
Jan Frodeno, Beijing 2008
Arguably one of the most legendary athletes of all time, Jan Frodeno of Germany is not just an Olympic winner, but the reigning, three-time Ironman World Champion and Kona course record holder. His 2008 Olympic win put him on the map in a shock sprint finish with Olympic veteran Simon Whitfield, with both men beating out the predicted winner, Javier Gomez of Spain.
Emma Snowsill, 2008 Beijing
One of the greatest rivalries in triathlon history is that of Australia's Emma Snowsill and Portuguese triathlete Vanessa Fernandez. Seemingly neck and neck in the run up to the 2008 Olympics, there was no telling who was going to take the title. Staying with the pack during the swim and bike, Snowsill made her move on the run, stretching to a final lead of one minute and seven seconds over Fernandez in second. She is now married to Frodeno.
Alistair Brownlee, 2012 London and 2016 Rio de Janeiro
The only triathlete to win the Olympic gold twice, Alistair Brownlee is the most decorated athlete in the sport. While his 2012 win was impressive, it wasn't entirely surprising for the man who was dominating the sport at the time. It was returning from major ankle surgery to win in the following Rio Olympics that was his biggest test. While he has been focusing on Ironman distance for the past year, Brownlee recently announced on BBC sport that he intends to return to Olympic distance this year to defend his title in Tokyo.
Nicola Spirig, 2012 London
Six-time European champion, Nicola Spirig of Switzerland rose to the top of her game at the London Olympics. In a nail biting photo finish, she swept gold ahead of Lisa Norden of Sweden. Spirig was one of the most consistent athletes on the international circuit and returned to the 2016 games in Rio de Janeiro to claim silver. She is now focusing on long distance triathlon, recently setting the course record at Israman Eilat.
Gwen Jorgensen, 2016 Rio de Janeiro
American athlete Gwen Jorgensen had her breakout year in 2011, just in time to be selected for the London Olympics. Suffering a flat tyre on the course, she finished a disappointing 38th place. 2016 was her year and she ran her way to gold ahead of Spirig and Vicky Holland of Great Britain. Her sights are now set on running, and she has cited one of her goals as winning the marathon in the Tokyo Olympics this year. "Once I got the gold in Rio," she told Runner's World, "I felt like I accomplished everything I could in triathlon and was ready for a new chapter."