Land-based training is highly effective whether or not pool swimming is an option. Current global circumstances allow you to discover the amazing benefits of improved range of movement (ROM), movement patterning to develop technique and most of all why elite swimmers use stretch cord training as part of their weekly program on land as well as in the water.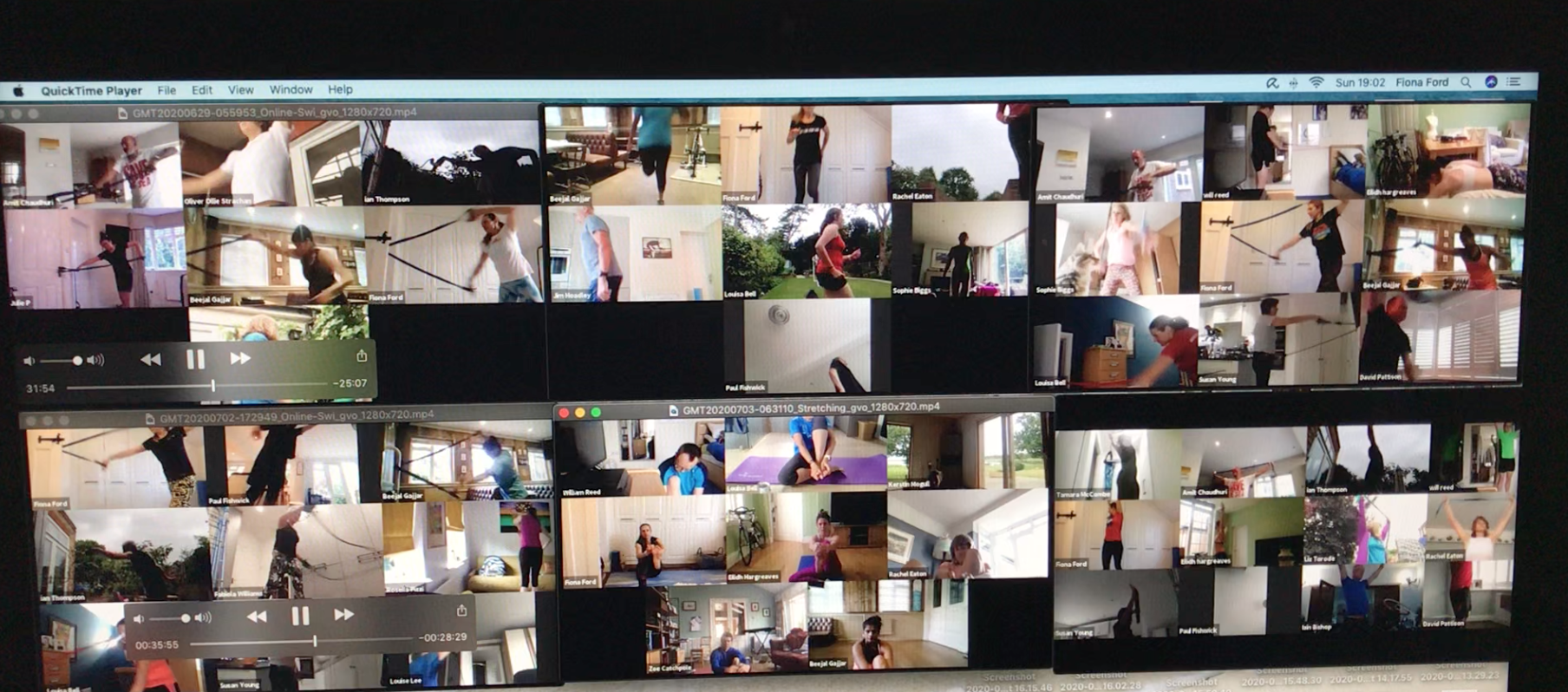 We offer 5 triathlon swim and run sessions per week, coached personally by Fiona, remotely over Zoom to ensure you continue making progress whether or not you are in the water or undertaking any group training due to changed circumstances and the impact of COVID-19. You can swim train indoors from the comfort of your living room, patio, garden, spare room, garage and just need a Wifi connection to join us online! Fiona's functional run training is based on her return from life changing injuries, after being told her 'running days were over' to return to multi-sport to eventually podium at the Ironman World Championships in Kona, Hawaii (2016). See Back On Track (published 2015)
Our online program of weekly coached sessions over Zoom, offer you:
technique coaching and drills to improve movement patterning
an aerobic and muscular endurance workout for the upper body (swim sessions)
a functional strength workout targeting the relationship between the core and shoulder girdle
core work and range of movement (ROM) in hips, shoulders and ankles particularly targeted for triathletes
Combining these elements in swim and run training over virtual sessions provides performance improvement with increased swim / run specific conditioning and enhanced functional muscular and aerobic strength. Fiona's land based indoor swim and run program was developed over the many months of her recovery back to triathlon racing eventually culminating with a podium finish at Ironman World Championships in 2016 having led out all of her swims in comeback races. The swim program has been proven to work specifically with triathletes tailored to their requirements as a population as these vastly differ to 'pure' swimmers in consideration of thoracic and shoulder movement range. Fiona's triathlon specific land-based swim program has built in range of movement and postural core development, to avoid setting up circumstances for injury adapting to different loading patterns using swim cords, as the sessions are designed to improve your swim specific muscular and aerobic endurance during lengthy stints out of the water. Her run training sessions are high to medium intensity on the run drill/ technique session (Tuesdays) and low to moderate intensity on the functional activation sessions (Fridays).
To join our online swim sessions you will need:
1-2 sets of stretch cords or resistance band/ trainer cable, with handles on each end. See our swim retail partner Mailsports for stock of swim specific land-training resistance bands (and use the discount code FFTE12 or COVID19)
A fixing point / tether at waist or hip height
A pull buoy or foam roller
A full sports water bottle
comfortable training clothing such as running kit (swimsuit or trunks are optional!)
space to move in with a Wifi connection and laptop/ mobile device
Spiky therapy balls or a tennis ball (for foot release work)
A foam roller (for shoulder and thoracic release work)
A stretching mat/ Yoga or Pilates mat
Cost per session £10 or £20 per week subscription for unlimited access to live and recorded sessions every week.
Sign up for any of our 5-6 sessions each week by emailing Fiona – you will be sent the meeting invitation to join the session and payment details
Monday morning session 7 am – Endurance / Technique land based swim
Tuesday evening 7 pm – Running technique and drills session
Wednesday evening session 7 pm – Pace session land based swim
Friday morning session 7:30 am – Functional running activation/ stretching session
Saturday morning session 8 am – Endurance land based swim session (75-80 mins)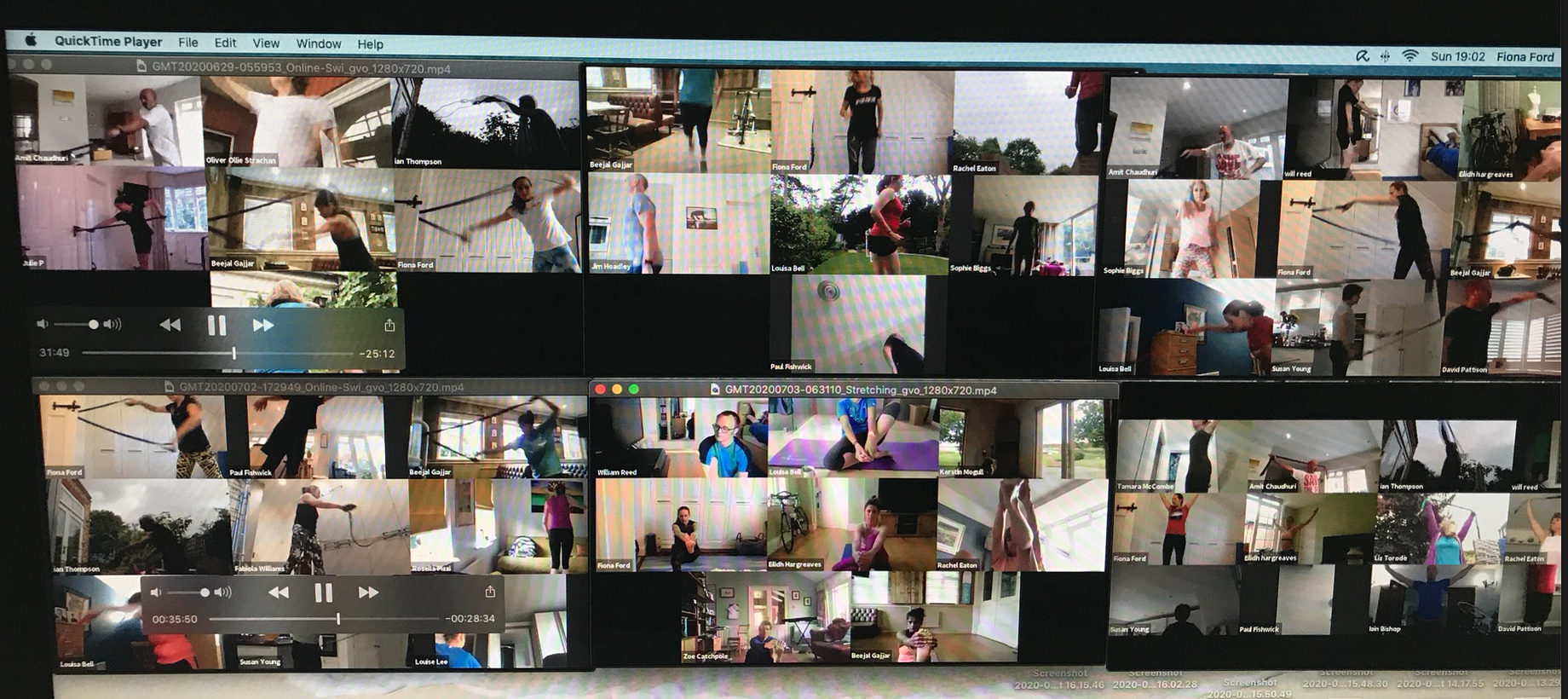 Fiona's successful return to racing after developing her land-based training programs, is featured in her published book, Back On Track
Her ideas and content on getting started with land-based training can be found in this article in 220 Triathlon magazine (image credit @220Triathlon) – the image is linked to the article!