Swim Smooth Squad Training
Join our friendly swim squad training  in South West London, coached by one of the very few Certified Swim Smooth coaches in Europe. Improve your swim technique, sustainable speed and endurance for triathlon and open water swim events using Swim Smooth's world class coaching system.
If you can swim 400m of freestyle why not come along and join us? Our open water and pool squad training sessions are suitable for novice swimmers, improving triathletes, open water competitors and strong master's swimmers. We have been providing high quality sessions in London since 2009 for all levels of swimmers using Swim Smooth's coaching system. If you've attended a video analysis session with Fiona or watched one of Swim Smooth's award winning DVDs, you'll already be familiar with many of the drills and skills we use during the sessions.
Each squad session is run by our head coach Fiona Ford, who also creates, oversees and coaches the overall program every season. Coaches Stephanie and Dan who also run the squad training when Fiona is away, are experienced and expert in the Swim Smooth approach. All our coaches have undertaken the 3 day Swim Smooth coaches course and have applied their professional development comprehensively as athletes themselves in addition to their coaching.
 Download our Triathlon Europe App to view and book your Swim Smooth squad training in South West London.
View our current squad timetable, sign into your sessions and manage your training online.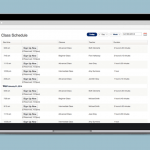 Squad Structure And Sessions
To help you optimise your triathlon and open water swim training, is what you can expect at the various sessions throughout the week at Richmond Pools on the Park
Monday 8pm to 9pm – Open water skills and endurance session
An open water skills and endurance session, available from May to September when Richmond's outdoor pool is open. By far and away our most enjoyable and practically useful session of the week for triathletes and those following the open water calendar. This is a structured pool-based session focusing on refining your open water skills for more effective and less anxious ocean swimming. Bring your wetsuit! We go through drafting, sighting, turning and pacing and if it's not covered in this session, you don't need to worry about it in the open water! It's a fun, challenging session and not to be missed by any aspiring triathlete or open water swimmer. The session is 60 mins and 3 to 4km in distance.
Wednesday 9pm-10pm – CSS / Pace session
If you want to get faster with your swimming, then this session is essential. It has been shown that the most effective way to improve your aerobic (endurance) performance is by tactically shifting your threshold curve to the right, meaning that you can perform at the same speed for less effort OR perform at a faster speed for the same effort. How do you do this? By working specifically at paces just slightly below and slightly above this threshold point. How do you know where this point is? You need to test regularly for it. Is that hard? No, quite the opposite, it's very simple and if done in the right manner and using some simple training tools (like the Wetronome or Tempo Trainer) this session can be both very challenging, highly rewarding and, surprisingly enough, fun!
Friday 8:30pm-9:30pm – Technique / Endurance session
This is an essential session for the week for developing muscular endurance and stamina, enjoyed by those who have a "diesel engine" and like longer, challenging swim sets at moderate paces and with a good focus on technique. An excellent way of building endurance in a time effective way as it's a one hour session. With a longer sets of continuous swimming (400m+) the coaches encourage technique implementation and application as a strong focus throughout this session. Each week we focus on a specific technical area drawn throughout the year from the overall from seasonal plan to ensure specificity to the season and progression, using drill practice to correct, modify or fine tune stroke technique across all of our lanes.
---
The Small Print
Cancellation Policy: Squad Sessions
Please cancel from any individual squad sessions you are signed in for 24 hours before the session commences, to avoid being charged at full rate, i.e. one swim credit will be deducted from your account. Select an 'early check out' online or it is super easy on the App to take yourself off the squad register that week if you can't attend. Alternatively simply sign in before each session on the App or online. Subject to availability you are very likely to be able to attend unless it is a particularly busy session! If it is a capacity squad you will be placed on the wait list and emailed if there is a cancellation.
---
All swimmers are organised in lanes according to their current CSS pace, ranging from 2:00/ 100m pace to <80 sec per 100m. CSS is a measure of your average sustainable pace per 100m at threshold, and is your 'Critical Swim Speed' or threshold pace. Please see the article on the SwimSmooth site for guidance on how to measure and the science behind working to your individual 'numbers' or data you can produce. Our squad annual plan features a significant amount of sustained pace training rather than sprint sets with long recoveries, to improve speed efficiency for triathlon and open water swim events.
Testimonials to improvement can be found here!